10th of May, 2007

LEILA KHALED HIJACKER DVD AVAILABLE ONLINE NOW!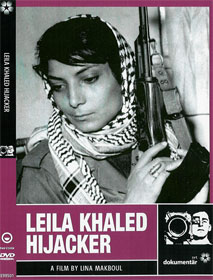 Click here to order now!

27th of May, 2009

SUMMER SALE!!! Only 19.99 EURO DURING THE SUMMER!!!
Click here to order.
18th of January, 2007 INDIA

LEILA KHALED HIJACKER WAS AWARDED THE GRAND JURY AWARD
AT THE TRI CONTINENTAL FILM FESTIVAL INDIA.

"A story about an extraordinary woman and her journey, the jury decided to award Lina Makboul´s film, Leila Khaled Hijacker the award for Best Film because of its nuanced politics of nationhood and gender. This film about a Palestinian woman hijacker challenges our assumptions about those who resort to violent means in response to oppression and gives us access to the politics of one of the most troubled regions of the twentieth century. It also complicates the current discourse on Islam and terrorism by its deliberation on the meanings of terms such as "terrorist", interrogating and asking if one person's terrorist could be another's freedom fighter. Especially relevant in the context of today's highly polarized conflicts in Iraq, Afghanistan, Palestine and closer home in Kashmir, this self-reflexive film echoes in its treatment, the complexity of its arguments, using evocative imagery both verité as well as reconstructed as well as archival footage in an extremely creative manner."
12th of January, 2007 SWEDEN

LEILA KHALED HIJACKER RECIEVED BEST FILM AWARD
AT NÖJESGUIDEN GOTHENBURG.

"Lina Makboul´s meeting with her former teenage idol, the first female hijacker Leila Khaled has resulted in a totaly magnificiant documentary. With an editing and archive footage that other documentaryfilmmakers only dream about, history and present are connected. Makboul´s personal tone and Khaled´s lack of guilt puts the question of commitment on it´s edge. The result is an initiated and balanced portrait that shows the people behind the act, behind the terrorist."
8th of November, 2006 SWEDEN

On the opening of Tempo Documentary Festival, Leila Khaled Hijacker recieved an award from The Lena Hellman Memorial Fund.

"In good documentary tradition and with a personal commitment, the film gives an informative background to one of the largest conflicts in our history."
Screenings for LEILA KHALED HIJACKER 2006:

28/1, Swedish premiere at the Gothenburg Film festival, Sweden
2-9/3, One World International Human Rights Film festival, Prague Czech Republic
9/3, Screening at Swedish National Television
10-19/3, Thessaloniki Documentary Film Festival, Greece
10-19/3, International Women's Film Festival in Créteil, France
23/3-1/4, Belfast Film Festival, Northern Ireland
23/3-2/4, It´s all True Film Festival in Sao Paulo, Brazil
6–14/4, Women's Film Festival in Seoul, Korea
4-9/5, Tekfestival in Rome, Italy
23-28/5, Doxa Documentary Film Festival in Vancouver, Canada
13-18/6, Silverdocs , Maryland, USA
14/6, WOCMES-2 Film Festival, Amman, Jordan
27/6, Tel Aviv Cinematheque Israel
1/8, Jerusalem Cinematheque Israel
20/7 - 6/8, Encounters South African International Documentary Festival
3-11/11, Docudays, Beirut International Documentary Festival

27-30/10, Cineffable - Paris Feminist & Lesbian Film Festival, Paris, France
3-11/11, International Images Film Festival for Women, Harare, Zimbabwe
1-5/11, Nordic Film Days Lübeck, Lübeck, Germany
15-19/11, Free Zone - Belgrade Human Rights Film Festival, Belgrad, Serbia
29/11-3/12, Toronto Arab Film Festival, Toronto, Canada
8-17/12, Jakarta International Film Festival, Jakarta, Indonesia